As a national research centre for natural hazard risk reduction and resilience, we are committed to promoting reconciliation within our organisation, as well as throughout the natural hazards research community.
Natural Hazards Research Australia's staff work from Wurundjeri, Yuggera, Turrbal, Burramattagal, Yorta Yorta, Bundjalung, Dharawal and Whadjuk Countries. We thank and acknowledge the Traditional Custodians of these lands and all the lands where we work, live and walk, and pay our respects to Elders past, present and emerging. We recognise that these lands and waters have always been places of teaching, research and learning, and that sovereignty has not been ceded.
Our vision for reconciliation
Our vision for reconciliation is that our organisation and sector:
will learn to value, respect, trust and represent First Nations peoples as the Traditional Custodians and knowledge holders of the landscapes that natural hazard research in Australia seeks to protect
will meaningfully include First Nations peoples in the development of a national natural hazards research program and priorities that are developed with genuine partnership
will support First Nations peoples to lead, design and conduct research that benefits communities and landscapes across their Country
will provide First Nations peoples with the collaborative support needed to strengthen their access and connection to Country and culture in ways that benefit and align with their values and vision for a sustainable and resilient future.
We are guided by the five dimensions of measuring reconciliation included in the 2021 State of Reconciliation in Australia Report, published by Reconciliation Australia:
race relations
equality and equity
institutional integrity
historical acceptance
unity.
Reconciliation Action Plans 
Our REFLECT Reconciliation Action Plan is guiding the first year of reconciliation actions within Natural Hazards Research Australia and will become a foundation for strengthening our future reconciliation.

You can watch the recording of the launch of our REFLECT Reconciliation Action Plan here: 
Artwork - Manawaradhanjin 'in our hands' by Leanne Brook
The artwork that features in our REFLECT Reconciliation Action Plan and at the top of this webpage was commissioned from Leanne Brook, an Aboriginal Australian artist living and working on Murramarang Yuin Country. 
We are very grateful to Leanne for creating this artwork for us, which reminds us that reconciliation needs to be embedded in the goals and purposes of the work we do at Natural Hazards Research Australia.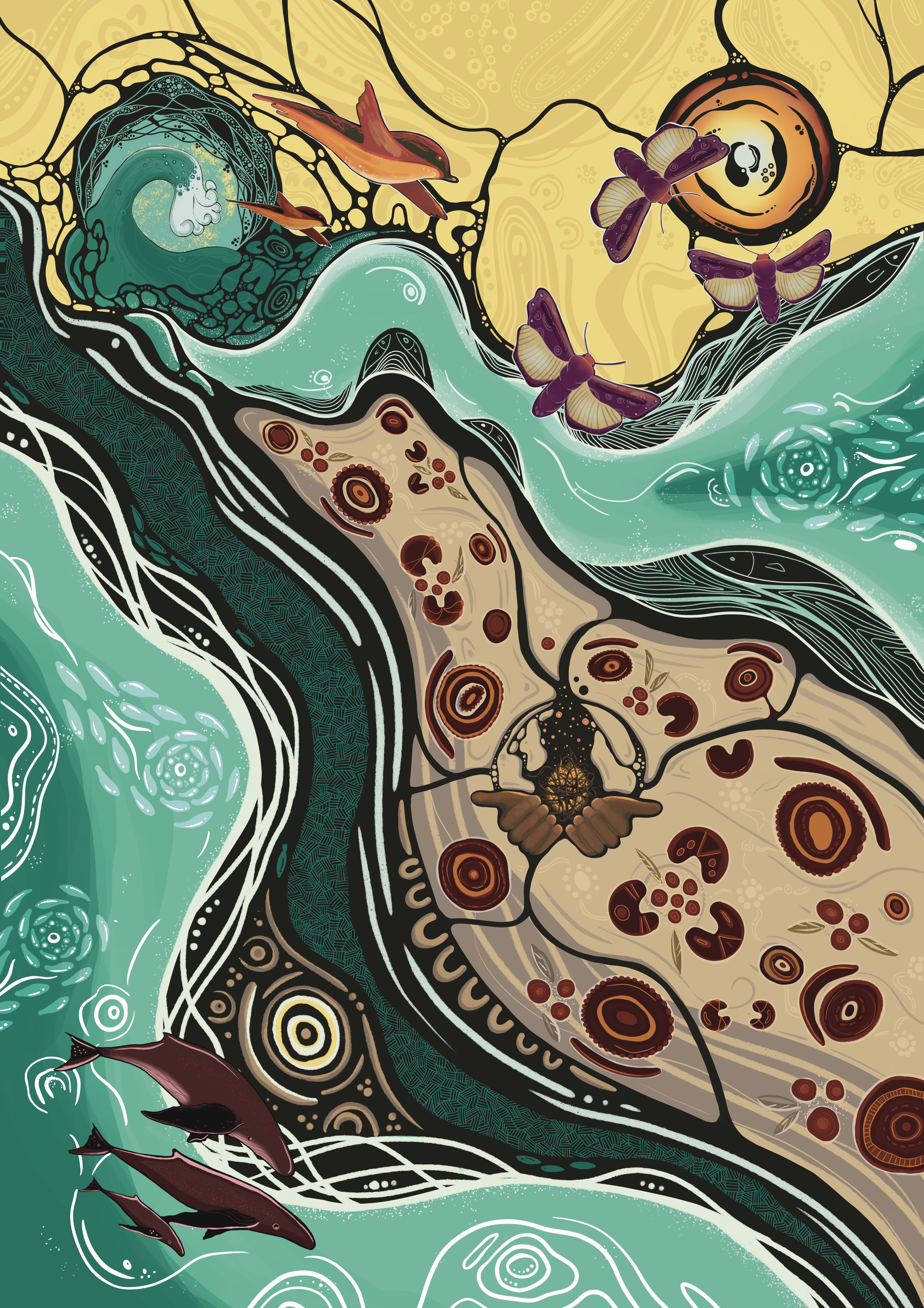 The story of the artwork, by Leanne Brook:
Researchers and Traditional Custodians working together to blend traditional and modern ways of caring for Country to adapt to climate change. The sea is rising but our People stand strong on the shoreline shielding the communities and protecting our way of living. Emerging from the dry cracked earth, a woman holds a gentle flame in her hands.
Fire has been used for tens of thousands of years as a way to renew Country. She graciously offers it as a gift, hoping that now we will listen.
The scarlet honeyeater symbolises the need to adapt to change. This bird usually migrates from Queensland to the Victorian border, but recently due to warmer seasons it has been observed further down the coast.
The bogong moth is an important insect for our People and for our environment. The three moths symbolise coming together for ceremony or for 'big talk' as well as a reminder of what we may lose if we do not act. Mobs once travelled from the coast to the mountains to feast on the moth and to take part in ceremony with other groups. But the moth could now be under threat from global warming.
A pod of Muriyira (humpback whales) migrate up the coast. Once almost hunted to extinction, the whales represent resilience and moving forward as a group towards a more sustainable future.