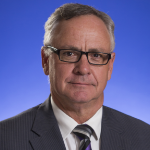 About
Mr Doug Smith's fifty year career in public safety, policing and national security has seen him involved in diverse leadership roles including during many major events and responses to natural disasters. Doug has served as a Deputy Commissioner in the Queensland Police Service, Chief Officer of the Public Safety Business Agency, Deputy Commissioner (Chief Strategy Officer) at Queensland Fire and Emergency Services, Chief Executive Officer of the CrimTrac Agency (a national information-sharing service for Australia's police, law enforcement and national security agencies now part of the Australian Criminal Intelligence Commission) and Assistant Commissioner in the Northern Territory Police, Fire and Emergency Service. Doug was previously a member on the Bushfire and Natural Hazards CRC Board.
His experience includes operational leadership, major reviews and the implementation of major reforms. He also has significant experience managing major government submissions, policy issues, procurements and legislative reform.
Doug has also worked in the Solomon Islands supporting the Royal Solomon Islands Police Force and Solomon Islands Police Ministry, as well as consulting for the Northern Territory Ombudsman on Police Force and Public-Sector compliance and performance.
Doug has given evidence before and prepared organisations for many inquiries, reviews and major court proceedings, as well as having positive dealings with all levels of government. He holds a number of graduate and post-graduate qualifications in public administration and policy and is recognised for his strategic and operational knowledge and skills in the public safety sector.