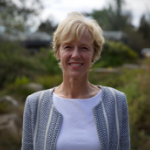 About
Kate Vinot brings over 20 years' experience as a senior executive in public and private sector organisations where the impact of natural hazards is critical to community resilience and success, and for sustainability. Her roles include strategy, risk and change management leadership in water utilities, land and biodiversity management, energy/water intensive manufacturing and local government.
Kate previously led the Utilities, Environment and Infrastructure practice at Nous Group as a Principal in Strategy and Public Policy, and has served on the Boards of GWM Water, Parks Victoria and Zoos Victoria. She is motivated by how analysis and insight from research can support better, more sustainable, planning and decision-making in and by organisations.
Kate has qualifications in engineering, economics and business administration. She is a Fellow of Engineers Australia, a Graduate member of the Australian Institute of Company Directors, an alumni of the Williamson Community Leadership Program and a Rhodes Scholar.