There are still seven days left to get your concept in for the Disaster Challenge. Don't risk FOMO – if you're a postgraduate student or early career researcher, there is still time to form a team and tell us your idea by the 30 June deadline. Get your skates and thinking caps on and get creative!
What is the Disaster Challenge?
The Disaster Challenge is a national challenge to encourage new ideas, new thinking and new research. We are calling out to early career researchers and postgraduate students across Australia to submit their innovative ideas and solutions for a wicked problem we are facing with natural hazards. For this first Disaster Challenge, the wicked problem is: How can disaster preparation engage with the unengaged, the moving or the hard to reach?
What needs to be done by 30 June? It's so simple!
All you need to do is pitch your concept to us by 30 June. We want to hear your/your team's idea for addressing the wicked problem.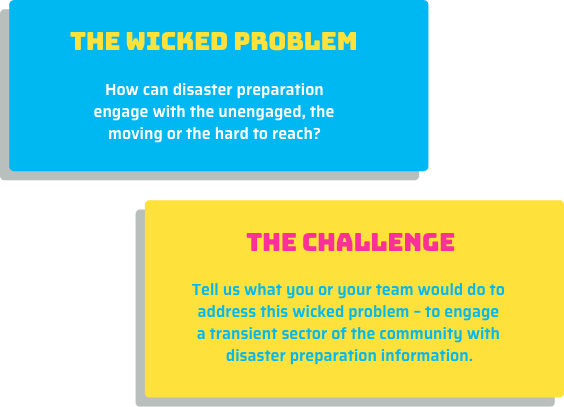 Jump onto the Disaster Challenge website and enter by filling in the online form or submitting a short video with an outline of your/your team's idea on how to address the wicked problem. At this stage, we're not expecting teams to present a complete solution – that comes later.
Once you have formed your team and understood the wicked problem, decide on your preferred approach. Your application should address:
what is causing the wicked problem and why it's an issue
what your approach to solving the problem is and who will benefit
how your approach will improve the safety or resilience of your selected transient community sector(s)
how it could be measured.
If your idea is selected as a finalist, you will be supported to take your concept to the next level for presentation at the Disaster Challenge Final on 13 October. 
Why enter the Disaster Challenge?
$5,000 cash prize – good ideas deserve to be rewarded! 
Make a difference – the judges are involved in day-to-day management of natural hazards around Australia. Your ideas will help them work with communities to improve preparedness, resilience, save lives, protect property, keep people safe and recover better after disasters.
Boost your credentials – your entry may be used to support your current education or research, or take it to the next level.
Get known – the finalists will be supported and encouraged by professionals within the emergency management sector and by senior academics, with opportunities to showcase your idea at state and national forums over the next 12 months.
Career advancement – work on real problems.
Unlock future opportunities in emergency management research.
Still have questions?
An online briefing has answered all your questions about the Disaster Challenge, featuring experts sharing their current research and knowledge that relates to this specific wicked problem, as well as Q&A about the Disaster Challenge process. Watch the recording here.
For more information on eligibility, how to enter and details of the inaugural Disaster Challenge, visit disasterchallenge.com.au.
The inaugural Disaster Challenge is coordinated by Natural Hazards Research Australia, hosted with support from universities and emergency management organisations in Queensland. It specifically covers the social sciences and is open to early career and postgraduate students from around Australia.