Calling all early career researchers and postgraduate students – what can you bring to disaster management in Australia? 
Natural Hazards Research Australia is excited to announce the Disaster Challenge – a national challenge to encourage new ideas, new thinking and new research.  
We want innovative research ideas for the wicked problems we are facing with natural hazards, kicking off with an inaugural social science-focused Disaster Challenge with more to come in future.  
The Disaster Challenge invites the best and brightest minds in universities to pool their creative talents and help us address the trickiest of problems that surround how we deal with flood, bushfire, storm, cyclones and other natural hazards.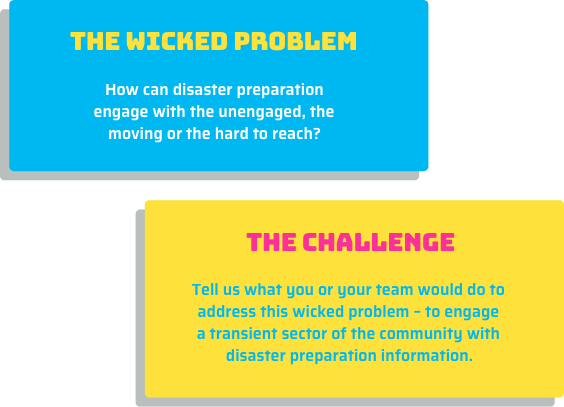 The Disaster Challenge will take place in two phases: 
Pitch your initial concept by 30 June: the judges will then review and select the best entries, and finalists will be notified the week of 11 July. 
Bring your idea to life: academic and industry mentors will support finalists in developing their idea to the next level, to be showcased at the Disaster Challenge Final on 13 October 2022 in Brisbane where the winning concept will be chosen.  
Why enter the Disaster Challenge?  
As an early career researcher or postgraduate student, this is a great opportunity to use your ideas to help change how we manage natural hazards. The judges are involved in day-to-day management of natural hazards around Australia and your ideas will help them work with communities to improve preparedness, resilience, save lives, protect property, keep people safe and recover better after disasters.  
Pitching your concept to the Disaster Challenge also puts you in the running for a $5,000 cash prize, the opportunity to progress your idea to further with industry experts and mentors, and the chance to showcase your concept at natural hazard forums in the next 12 months.  
This is also an excellent opportunity to boost your credentials and advance your career, with extensive promotion planned for the winning concept.  
The Disaster Challenge is about how you take your knowledge, your ideas, your thinking and your experience to make a difference to disaster management. What research innovation can you bring that Australia hasn't tried yet?  
For more information on eligibility, how to enter and details of the inaugural Disaster Challenge, visit disasterchallenge.com.au.  

National in focus, the inaugural Disaster Challenge is coordinated by Natural Hazards Research Australia, hosted with support from universities and emergency management organisations in Queensland: Australian Red Cross, CQUniversity, Griffith University, Healthy Land and Water, Inspector-General Emergency Management Queensland, James Cook University, Office of the Queensland Chief Scientist, Queensland Fire and Emergency Services, Queensland Police Service, Queensland Reconstruction Authority, Queensland University of Technology, University of Queensland, University of Southern Queensland and University of the Sunshine Coast. It specifically covers the social sciences and is open to early career and postgraduate students from around Australia.